If your biotech startup is developing a drug, medical device, or therapy, HIPAA compliance should be part of your long-term plan. Ensuring your IT infrastructure is capable of meeting compliance needs now can save you time, money, and headaches as your company grows. Even if a biotech company isn't specifically working within HIPAA, they should consider implementing IT security standards that mirror it. Setting up secure IT systems now will lower your risk of problems in the future, and that's good for your company whether you work within HIPAA or not.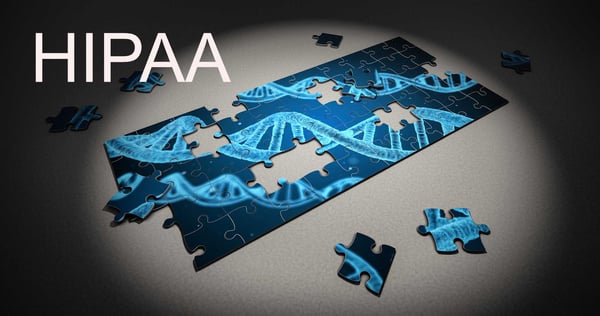 1. Plan for Growth
Expect change. HIPAA compliance is a moving target – the requirements will change, so build your IT to be adaptable enough to keep up. Technology and legislation continue to evolve, so you need an IT infrastructure that complies with today's requirements and is robust enough to handle future requirements, as well. Designing with HIPAA in mind from the beginning can reduce the time and cost of ensuring you are compliant later.
As your business grows, the technology has to grow with it. When biotech companies come to iuvo for help, we want to make sure the infrastructure is ready to accommodate the future needs they may not have thought of yet. Growth can take different forms.
A bigger team means more devices and additional IT services. This can lead to a messy patchwork of different computers, software, and platforms. Disorganized device management is expensive and certainly not conducive to HIPAA requirements. Bringing in an IT professional can help streamline your IT infrastructure so new employees can quickly onboard and get to work right away.
Future partnerships with other Life Science or pharmaceutical companies will involve stringent HIPAA requirements. Creative solutions and workarounds might have served you well in the early stages of the startup. But as you become more established, bigger projects often mean more regulations with little room for flexibility. Not being prepared for HIPAA requirements may cost you future business and the ability to sell to those who require the compliance.
If your goal is funding or acquisition, having a centralized and strategic IT organization can make the startup more appealing to investors and buyers. If you are already operating under HIPAA levels of compliance, it can help eliminate possible hesitations so that your IP is the focus.
2. Manage All Devices
Your company's HIPAA-compliant IT infrastructure will rely on centralized management of all devices. This is the best way to guarantee that you are enforcing information security policies. Any device that touches your company's data needs to be centrally managed so that your IT team can apply the necessary policies to it. The Life Sciences and pharmaceutical companies that you partner with will require consistent adherence to:
Written policies
Data encryption
Active antivirus
Multifactor identification
These companies want to make sure that their partners have a single access point to enforce those policies, and then identify what's not compliant and remediate it or remove it as a risk.
3. Written Data Policies
Just like with your device management, you need to have written policies for data classification and retention. Make sure policies clearly define how data should be handled. Ideally, you will have fully anonymized data, but more likely, if you are running a clinical trial there will be some identifying information. Your data policies should clearly define rules for managing PII (Personally identifiable information) and PHI (Protected Health information).
For HIPAA, not only do you need to securely retain data for a specific amount of time, but you also need to make sure that data can be destroyed and have proof that it's destroyed. Certain data retention policies are necessary for stricter regulations such as Europe's and California's data regulations. Even if they aren't required, we still recommend written data policies as a best practice for operations and to prevent liability down the road. Adherence to the most stringent regulations will open up opportunities to do business with others.
4. Protect the Cloud
The current COVID-19 situation highlights how the Cloud helps with business continuity, as many workplaces had to pivot to remote operations during the pandemic.
Once you start incorporating PII and PHI into the Cloud, the main concern is data security. Your IT provider can make sure the Cloud is set up correctly with security as a top priority. At iuvo Technologies, our specialists can also utilize AI driven technologies to flag information that looks like it could be PHI/PII and set up a protocol for automatically adhering to your data policies.
5. Know When to Seek IT Help
Incorporating HIPAA compliance into your IT infrastructure can be overwhelming at first, but you don't have to do it alone. Your in-house IT team or a managed service provider like iuvo Technologies should take the lead. The most common times to build HIPAA-compliant infrastructure are:
When a startup is first getting off the ground
When you start to grow beyond five people
When you land a contract with a pharma company that requires extensive data security compliance
When a company transitions from work within academia to industry
When you get in trouble and realize you aren't as compliant as you previously agreed to
When you want to be acquired
IT isn't always a top priority for entrepreneurs who are busy building every aspect of a biotech business. Now, however, more than ever, IT should be a strategic part of your business to ensure compliance. If you can set up the IT system correctly from the start, the process is easier and much less expensive than it was even a few years ago due to the maturity of cloud solutions that offer end-to-end compliance driven IT solutions. You won't have to spend time and money undoing a previous IT setup for HIPAA compliance in the future.
At iuvo Technologies, we help biotech and life sciences companies achieve IT compliance for HIPPA at any stage of the business. We can handle many different requirements, whether it's helping build infrastructure in the cloud, building on-premise systems in the office or in a data center, and everything in between. As an added bonus - we can also handle day to day support.
Want to know how an all-in-one IT option could help your biotech organization with HIPAA compliance? Contact us to schedule a free phone consultation.