iuvo Technologies 2022 Business & Leadership Technology Symposium is coming up on October 12th. With a little over a month to go, we wanted to break down some of the biggest reasons you should attend: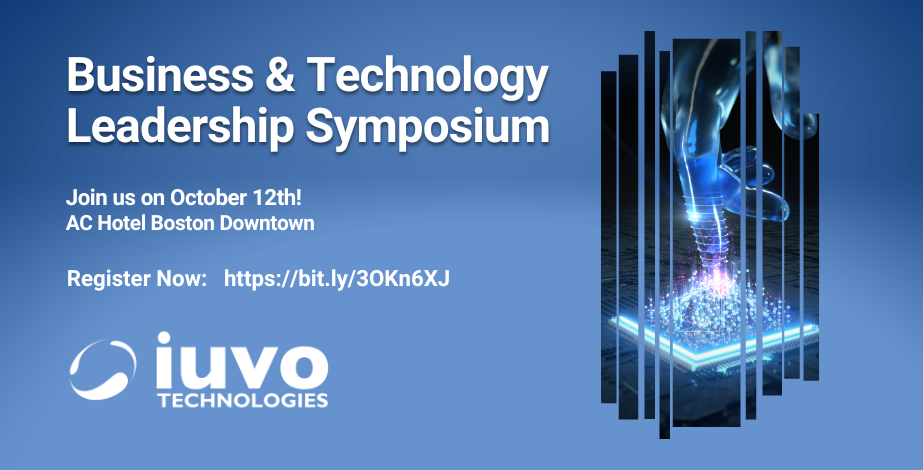 1. Develop your leadership skills
At iuvo Technologies, we're passionate about leadership, and we wanted to exhibit that through this year's symposium. Our tagline is: Harnessing leadership to differentiate and disrupt. And that's exactly what we intend to do. We're planning an excellent day of speakers, panels, and networking to help you fine-tune your leadership skills and become a truly responsive leader in 2022. The last few years have been full of changes, and being a responsive leader has never been more important. No matter your workplace environment—whether it's in-person, remote, or a combination of both—good leadership is a constant, and we're here to help you make sure that happens.
2. Entertaining & educational speakers
Building on the leadership theme, we have some great speakers lined up that can help you learn to be a better leader:
As President and CEO of iuvo Technologies, Bryon Beilman has experience not only leading a team, but empowering them toward success. In his talk, he will share some of the core ideas of his upcoming book, Leadership at the Edge, and break down how these concepts can transform businesses and help them become market leaders.

Margot Bloomstein is a Brand and Content Strategist at Appropriate, Inc., as well as the author of Trustworthy: How the Smartest Brands Beat Cynicism and Bridge the Trust Gap (2021) and Content Strategy at Work (2012). Her keynote talk at the symposium will focus on addressing key issues of trust, transparency, disillusionment, and authenticity through brand-driven content strategy. You'll learn how to foster trust and empower audiences through content and design.
During his session, Mike Joseph, Founder and CEO of Technium, will take you through a journey that disrupted his own company while transforming an industry. Discover how to overcome your laggard thinking and old ways of doing things in order to make your life easier. One connection can lead to infinite connectivity.
These are just a few of our amazing speakers we have planned. We still have a few more to come, being announced Thursday, September 8th, so keep an eye out for those here.
3. Hear about the latest tech innovations
This is a Leadership & Technology symposium after all, so there will also be some great speakers exploring the innovative ways they use technology. iuvo Technologies' own Gary Cutbill will be speaking on our newest cloud product: the Cloud Launchpad. Aimed at addressing the limitations of vendor specific cloud solutions, our launchpad is an Infrastructure as Code (IaC) framework designed to give clients more flexibility to create and manage automated cloud environments. As a key developer of this project, Gary will break down the framework, use cases, and key benefits of the Cloud Launchpad, and how you can use it to drive innovation in your own organization.
We also have a panel on modern user workplaces, which will discuss many of the most modern approaches and technologies around Windows, Mac, cloud, SaaS, and business process automation. With the prevalence of remote and hybrid work, businesses need to be offer flexible, modern workplaces. Our panelists are experts in these concepts, and will break down how to create a great work experience from anywhere.
4. Networking opportunities
What conference would be complete without networking opportunities? In addition to all the great speakers we have, attendees will also get chances to learn from each other. We'll have a networking hour at the end of the conference, plus frequent breaks, where you'll be able to chat with peers and sponsors—and get some free swag! You'll have a chance to network with speakers, as well, and fine-tune leadership skills in real time.
5. Because it'll be fun!
Lastly, but certainly not least, the main reason you should come to iuvo Technologies' 2022 Business & Technology Leadership Symposium is…it'll be fun! We have an amazing day of entertaining speakers planned, followed by a networking hour with delicious refreshments, fun raffles, and more. We're thrilled to be hosting in-person events after the chaos of the last few years, and we're focused on making this one the best yet. Don't miss out, reserve your spot today!