Last week iuvo Technologies, Boston's premier white-glove IT services and Managed Services Partner, attended the Channel Partners Evolution conference and Awards Gala in Washington, D.C. where our own, Bryon Beilman, was awarded the 2019 MSP 501 Lifetime Achievement Award!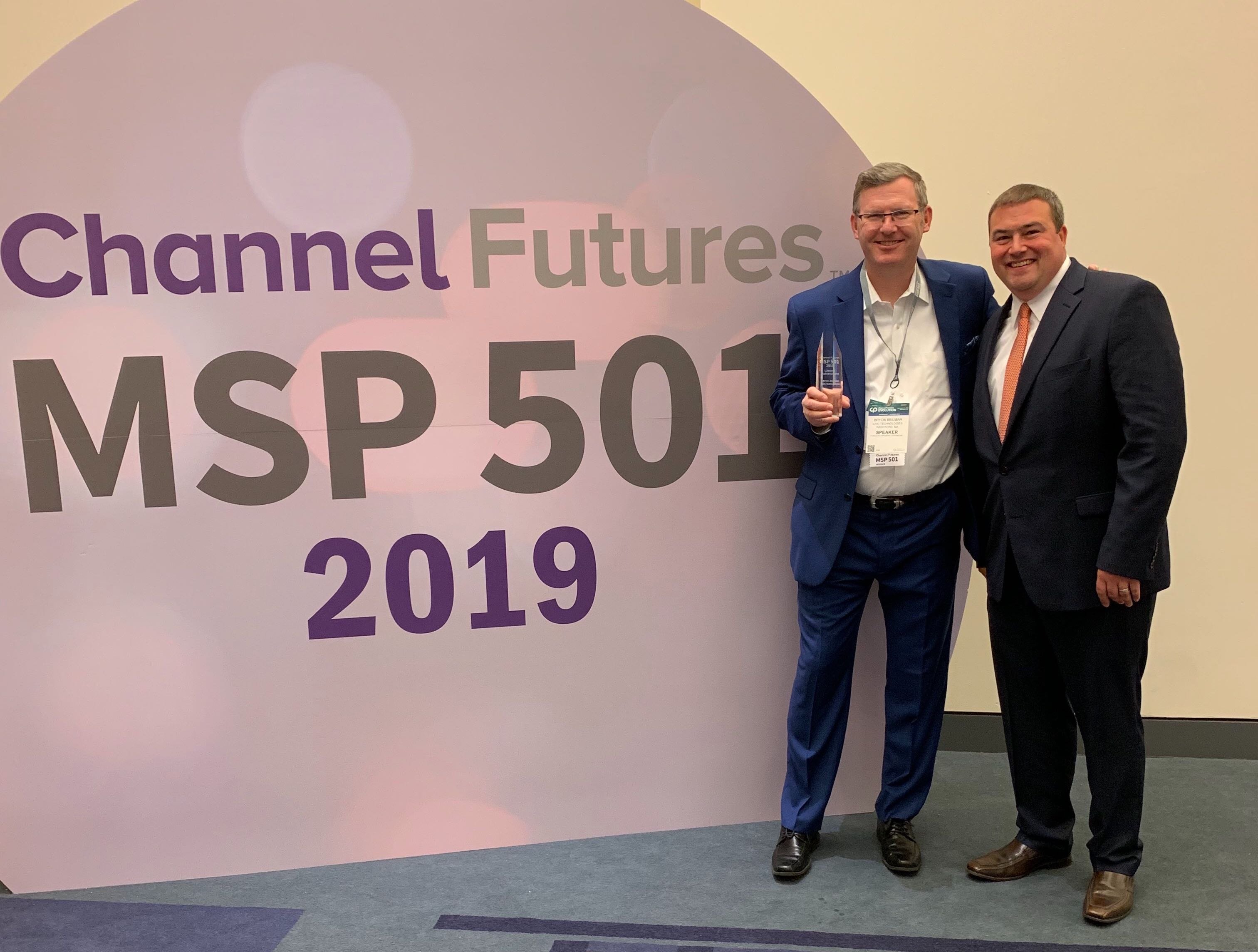 Citing this as the highlight of his career, Bryon said, "I'm actually kind of taken aback by the whole thing. It's pretty awesome."
MSP 501s Lifetime Achievement Award is awarded to a single executive who has demonstrated commitment, perseverance, creativity, ingenuity and, most importantly, integrity over their entire career. Incredibly, Bryon was selected from several hundred nominations for what the MSP 501 community considers its biggest award of the night. In delivering the news that Bryon had won, Channel Futures' and Channel Partners' Senior Editor, Kris Blackmon said, "you've dedicated your career to help define the managed services market through a commitment to treating your customers and employees with respect and by maintaining a high ethical standard for your business. We are proud to honor you with this award."
Bryon joined the stage at the MSP 501's Awards Gala to accept his lifetime achievement award and delivered an emotion-packed speech discussing how much this award means to him, as well as the lessons he has learned and the experiences he has been through over his thirty-plus year career.
When asked what advice he would give to his younger self, Bryon said, "surround yourself with people that are better or smarter than you. Remove the ego. I think if you bring the best people around you it's going to help you, it's going to help everybody around you, and it creates an environment you really want to work for."
Bryon also left the audience with two pieces of advice, "You need to embrace change. Technology is changing all the time". He continued, "Focus on people. I think we are in the people business. I tell my iuvonauts, that's what we call ourselves at iuvo Technologies, that we are basically a customer service company that happens to be really good at technology. If you focus on your corporate culture and make it really powerful it will help you do great things."
Bryon was also invited by the MSP 501 & Channel Partners Evolution communities to participate as a panelist in the "Career Advice from the C-Suite" session which aimed at educating attendees on a variety of channel roles and the trademarks of building a company.
While this award may have come as a surprise to Bryon, the entire staff at iuvo Technologies knew it was only a matter of time before his brilliance, excellence and contributions to the industry he loves so much were recognized beyond the employees of iuvo. Congratulations, Bryon, on an incredibly deserved honor.