For small businesses without any formal IT department or staff member to speak of, the decision to outsource their IT can be fairly easy. Medium-sized organizations, on the other hand, can be on the fence about it. Why?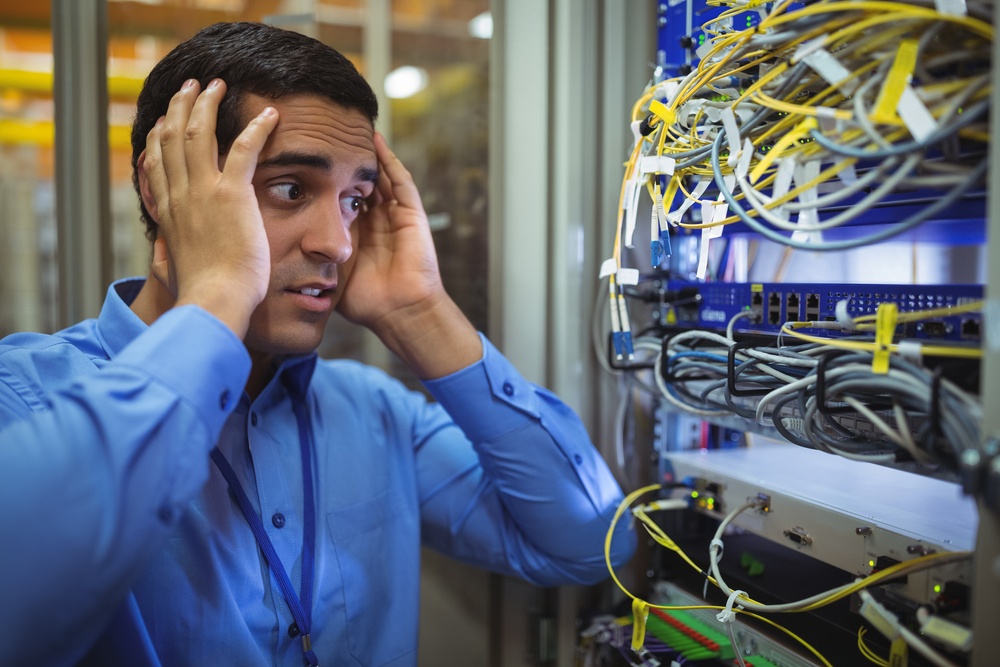 Well, we often hear people decline to outsource their IT because they already have staff in place that they know and trust, and they don't want to have to let anyone go. Luckily for them, outsourcing IT doesn't necessarily mean wiping the slate clean. That is the route some companies choose to take, but it isn't the only time an organization may choose to bring in an IT vendor.
Below we'll take a look at three scenarios where your business could benefit from a partnership with a trusted IT service provider, even if you already have IT personnel in place.
Three scenarios on why you need to outsource your IT.
Scenario #1: When you need additional resources and expertise.
Say you have IT personnel that are planning to go on vacation (or are sick unexpectedly). An IT service provider can step in as valuable coverage for the time that they're gone.
Working with an outsourced IT service provider, even if you have a full-time (or part-time) IT staff, provides your business with additional resources, expertise, and - as a result - flexibility.
More importantly, your IT partner can also provide additional resources and knowledge so that your existing IT team can delegate projects best suited to their skill sets and availability. As we've mentioned before, not every IT person is an expert in every area of IT - some people know more about specific devices, components, or pieces of software than others. And that's 100% fine! Adding an IT vendor to your repertoire of resources simply increases the areas of proficiency that are available to your business without having to go out and hire a full-time staff member or two to get it.
Scenario #2: When you need an expert hand to handle the high-level problems.
Your internal IT team is spending lots of time handling small but crucial problems, like removing viruses, setting up printers, swapping out old equipment for new, etc. In this scenario, it may make sense to bring on the services of an outsourced IT service provider so that your internal team can focus on the day-to-day issues plaguing your company's IT, while the vendor focuses more on the proactive maintenance and higher-end remediation.
Especially in larger companies, it's not uncommon that the day-to-day trials and tribulations of having a workforce dependent on their devices keeps their internal IT team from working on improving operations and developing project plans.
When your internal IT team is caught up in just keeping everything afloat, they simply don't have the time or resources that can allow them to look ahead and plan projects or complete projects that are already on the docket.
Scenario #3: When your priority is to achieve your business goals and grow.
Your SMB might have an IT staff - perhaps an entire department led by an IT Manager or Director of IT - but you don't have a Chief Information Officer.
The role of CIO is incredibly important to many organizations - especially those that are experiencing or expecting growth in the future. CIOs not only keep an eye on project progress, routine and proactive maintenance, and the day-to-day operations, but they also make sure that the organization's existing IT infrastructure is inline with upcoming goals and budgets.
For example, a vCIO will be able to look ahead to the next year with the business goals in mind and make recommendations to the rest of management about what projects should be implemented in order to facilitate further growth and prevent downtime. With an IT Service Provider, your organization can get these types of C-level benefits without having to hire a C-level employee and deal with everything that comes with that (a C-level sized compensation package, for example). That's why one of the most important reasons to bring in an outsourced IT Service Provider is so you can take advantage of Virtual CIO (vCIO) services.
To learn more about what it would be like to work with an IT service provider and if it would be a good fit for your organization, check out our eBook, What To Expect When You're Expecting IT.