iuvo, Boston's premier white-glove IT consulting and Managed Services Partner, has again been named to the 2023 CRN Managed Service Provider 500 list. iuvo was selected as a winner of the Pioneer 250 subcategory, which recognizes the top technology providers and consultants whose forward-thinking approach to providing managed services is changing the landscape of the IT channel. Specifically, the Pioneer 250 list recognizes companies that have largely built their business model around providing managed services to the SMB market.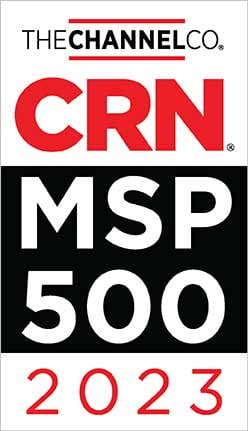 Upon hearing of the win, President & CEO, Bryon Beilman said, "The word pioneer is tightly coupled with innovation. With three new productized services launched this year, it has been a year of innovation and it is great to be recognize for our contribution in this area." He continued, "If you don't innovate and change, you will die. Change and innovation must be part of a company's DNA and the need to ensure that it is part of their hiring process. Our secret power is our ability to hire super talented people who are both awesome and humble, so they are always challenging themselves to be the best."
Bryon also said, "Every year that we grow, we change and adapt yet stay true to our core values. This year we have really embraced the concept of 'Leadership at the Edge', which provides both empowerment and autonomy for people to do their best work. We were able to hire some exceptional people this year and we have all been delighted about how easily they embraced this concept and added so much value to our clients and iuvo as a whole. We often wondered how we would keep our culture intact while growing the company and this certainly has been a year of validating that this can work and work well."
MSPs have become a vital part of the success of businesses worldwide. MSPs not only empower organizations to leverage intricate technologies but also help them keep a strict focus on their core business goals without straining their budgets.
The annual MSP 500 list recognizes the leading solution providers in North America whose innovative approaches to providing managed services are changing the landscape of the IT channel with ground-breaking solutions, while helping end users improve operational efficiencies and maximize their return on investment.
iuvo Technologies is consistently named to these honorable lists and we continue to win awards across the IT landscape. Our method of doing business has been disrupting the IT industry for sixteen years and the frequency in which we win awards speaks to how different our approach is. There is no end in sight for us and the innovation we continue to demand and provide for our clients.
The full list of winners is available here. iuvo's winner profile is available here.
About The Channel Company
The Channel Company enables breakthrough IT channel performance with our dominant media, engaging events, expert consulting and education, and innovative marketing services and platforms. As the channel catalyst, we connect and empower technology suppliers, solution providers and end users. Backed by more than 30 years of unequalled channel experience, we draw from our deep knowledge to envision innovative new solutions for ever-evolving challenges in the technology marketplace. www.thechannelco.com
Contact us if you would like to learn more about our award-winning services.