For the fourth year in a row, iuvo Technologies has been named to the Channel Futures MSP 501's list of the Tech Industry's Most Prestigious Global Managed Services Providers, coming in at 224.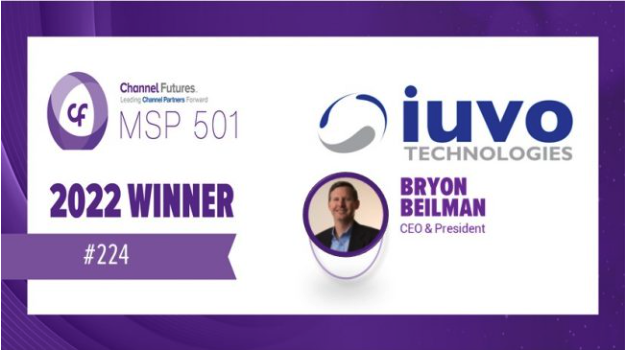 The MSP 501 list recognizes organizational performance based upon key metrics such as profit margins, recurring revenue, growth opportunities, and innovation. The list has developed over time to a competitive ranking for companies that focus on high levels of customer satisfaction in the MSP industry.
iuvo Technologies' President & CEO, Bryon Beilman, said of winning the award: "The MSP 501 is the defining list and ranking of MSPs around the World, so making this list is special for many reasons. Rising above nearly all of our competitors in New England and being competitive with some of the best and biggest MSPs in the industry demonstrates that we are adding measurable value to our customers."
We've undergone a lot of changes the last year, growing our team by 39% and expanding our Life Sciences & Biotech, DevOps and Cloud offerings.
"Making this list for the fourth in a row is also special because it demonstrates that we are consistently delivering great services over time, even amid COVID-19 and other changes," Beilman said.
iuvo Technologies has enjoyed frequent success and recognition over the years from many awards channels—we even won a few this year. Putting a key focus on disrupting the IT industry in order to provide the best service and experience has been core to this success. Contact us to learn more.
The full list of MSP 501 winners is available here.