Last week, iuvo Technologies, Boston's premier white-glove IT consulting and managed services provider, won two of eleven coveted Channel Partners Excellence in Digital Services Awards. Introduced in 2019, the Excellence in Digital Service Awards recognize partners who deliver stellar business outcomes for their clients. Recognition is provided in ten categories, with an additional award presented for special achievement among all applicants. Applicants submitted case studies of projects they had completed in the previous year. Submissions were judged by the Channel Partners editorial staff and members of the Channel Partners Advisory Board.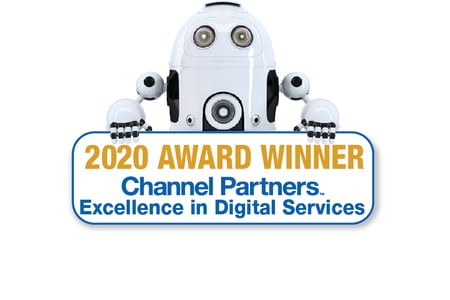 iuvo Technologies took home the Cloud Builder Award for excellence in helping customers "cloudify" their business. This honor was awarded based on the extensive work we completed for a Massachusetts-based Life Sciences company in which we escalated their business to one-hundred percent cloud enabled, saving the company money, increasing their productivity and efficiency and ensuring their ability to scale for years to come.
In addition to the Cloud Builder Award, iuvo Technologies was honored with the most sought-after award of the group, the Digi Master Award, for the partner that exhibited maximum digital transformation brilliance.
When asked about winning the Cloud Builder award from Channel Partners, President & CEO, Bryon Beilman said, "We are a cloud forward company and the Cloud Builder award validates that we are able to bring our ideas and values to our customers. There are still quite a few businesses out there that have some fear of the cloud as it relates to security or regulatory requirements. If you understand how to properly implement and use technology, you can increase your business' security, scalability and availability. This award validates that we understand cloud technologies and do the right thing for our customers."
He continues, "As for the Digi Master Award, being selected out of all of the other submissions is incredible. This work requires a very special blend of business and technical acumen to really understand what our customers need and then to properly execute on it. It sounds straight forward but doing it well is far from simple. All the hard work we have put into understanding and mastering technologies and services that are true business enablers and give our customers a competitive advantage in their market is recognized with this win."
We're incredibly grateful to our employees, clients and to Channel Partners for recognizing our hard work on so many levels. We can't wait to see what the future brings.
About Informa Tech
Channel Futures, Channel Partners Online, Channel Partners Conference & Expo, Channel Partners Evolution and Channel Evolution Europe are part of Informa Tech, a market-leading B2B information provider with depth and specialization in the information and communications technology sector. We help drive the future by inspiring the technology community to design, build and run a better digital world through our market-leading research, media, training and event brands. Every year, we welcome 7,400+ subscribers to our research, more than 3.8 million unique monthly visitors to our digital communities, 18,200+ students to our training programs and 225,000 delegates to our events.