iuvo Technologies has been selected as one of the 2019 Boston Business Journal's Best Places To Work! One of twenty companies in the extra small business category and one of seventy-nine total companies selected from the Boston area, iuvo Technologies joins a group of companies dedicating to making appealing workplace environments for their employee.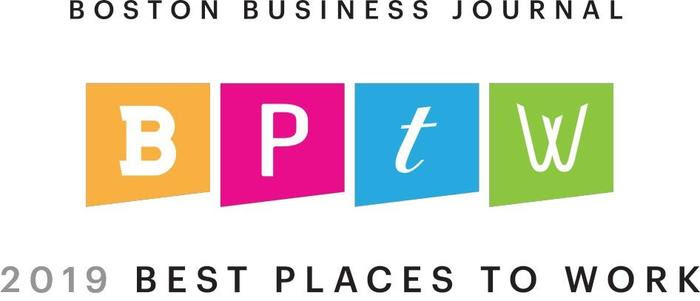 "Winning this award demonstrates we have built a culture that values our members and puts our people first. It means I can go to work each day knowing that our members enjoy where they work and the work environment we have created," remarked Jeff Ouellette, COO of iuvo Technologies.

Bryon Beilman, President & CEO of iuvo Technologies adds, "It excites me for two reasons. The first is that I care about our members, our iuvonauts, so creating a place that they like to work makes me happy. The other reason it becomes a competitive advantage because employees who are raving fans will transfer that to our customers and elevate our service."
Our commitment to ensuring we are one of the best places to work has been a passion for over 12 years, with "People first" a pillar of our core values. 2019 marked a year when we established a company objective to guarantee employee satisfaction. We formed a core team responsible for actively evaluating and adding perks and services that are meaningful to our employees on a quarterly basis.
While iuvo has been fortunate to win many exclusive awards in the past, this one is a bit different for us. "Many of our other awards are generally focused on growth, which is exciting, but this award recognizes our culture which is the foundation of any good company. Our members take ownership, lead with conviction and love to collaborate. Winning this award means we haven't lost sight of what matters most: Our People,, Jeff said
We are beyond thrilled to represent the BBJ's Best Places to Work. Our commitment to excellence in the services we provide as well as our passion to serve our employees is always a main focus. We greatly appreciate being recognized for it.
We can't wait to take part in the awards night in June!
The full Boston Business Journal's Best Places To Work list is available here:
https://www.bizjournals.com/boston/news/2019/04/11/bbj-reveals-2019-best-places-to-work-honorees.html?iana=hpmvp_bost_news_headline
About Boston Business Journal
The Boston Business Journal is Boston's leading source of business news, information and events; strategically targeting businesses decision makers. Their media products provide comprehensive coverage of business news from a local, regional and national perspective reaching their readers through the weekly print publications, their website www.bostonbusinessjournal.com, e-mail products and events.
The Boston Business Journal is published by American City Business Journals, the nation's largest publisher of metropolitan business news.