We are delighted to announce that iuvo Technologies is named one of Inc. Magazine's 2017 Best Workplaces! This award is a true acknowledgement of our core values to put people first. Our company's success is rooted in the fact that relationships both with customers and employees form the core of our culture. We believe people do their best work when they are treated well, are empowered and enjoy going to work, and in turn are able to provide the best experience to our customers.
iuvo Technologies makes it a primary goal to ensure our employees are valued by senior leadership. In fact, we outranked all other companies in ensuring employees feel valued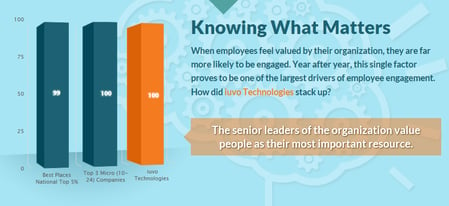 by their organization. Inc. Magazine states this is "the single factor that proves to be one of the largest drivers of employee engagement." One-hundred percent of our employees feel the senior leaders of the organization value people as their most valuable resource. Our employees described the workplace as first and foremost FUN, but also challenging, collaborative, engaging and supportive. We couldn't agree more! Learn more about our team and culture here.
We're proud to be recognized by our employees, peers and Inc. Magazine. Congratulations to our team and to all of the other honorees. The complete Inc. 2017 best workplaces list can be viewed here.
Inc. Magazine, founded in 1979, is an American monthly publication focused on growing companies. The magazine publishes annual lists of the 500 and 5000 fastest-growing publicly held small companies in the U.S., called the "Inc. 500" and "Inc. 5000".