iuvo Technologies, Boston's premier white-glove IT consulting and Managed Services Partner, has again been named to the 2021 Managed Service Provider 500 list. Within this award, iuvo Technologies was selected as a winner of the Pioneer 250 subcategory, which recognizes the top technology providers and consultants whose forward-thinking approach to providing managed services is changing the landscape of the IT channel. Specifically, the Pioneer 250 list recognizes companies that have largely built their business model around providing managed services to the SMB market.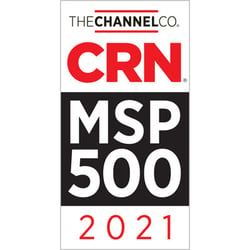 Upon hearing of the win, President & CEO, Bryon Beilman said, "I stop to think about what Pioneer means. Pioneers were the first explorers of our country. They went out into the unknown with a strong belief in their ability to adapt and persevere. "IT" may not have the same life or death consequences that trekking across an unknown continent did, but IT changes so quickly that you have to be highly adaptive and embrace change to survive. This Pioneer 250 award affirms that we are successfully pushing forward and turning the unknown into the known."
He continued, "This is not the first time we have won this award. It speaks to the fact we are not sitting still. Our relentless focus on the customer means that we need to continuously innovate to ensure that our clients receive the best solutions and service."
iuvo Technologies is consistently named to these honorable lists and we continue to win awards across the IT landscape. Our method of doing business has been disrupting the IT industry for fourteen years and the frequency in which we win awards speaks to how different our approach is. There is no end in sight for us and the innovation we continue to demand and provide for our clients.
The full list of winners is available here.
About The Channel Company
The Channel Company enables breakthrough IT channel performance with our dominant media, engaging events, expert consulting and education, and innovative marketing services and platforms. As the channel catalyst, we connect and empower technology suppliers, solution providers, and end-users. Backed by more than 30 years of unequaled channel experience, we draw from our deep knowledge to envision innovative new solutions for ever-evolving challenges in the technology marketplace. www.thechannelco.com
Contact us if you would like to learn more about our award-winning services.