Last month, we announced iuvo Technologies' 2022 Best Places to Work win from the Boston Business Journal, in the Extra-Small Company. We're excited to announce that we were ranked in the top five of the Extra-Small Company category, coming in at fourth place out of twenty companies.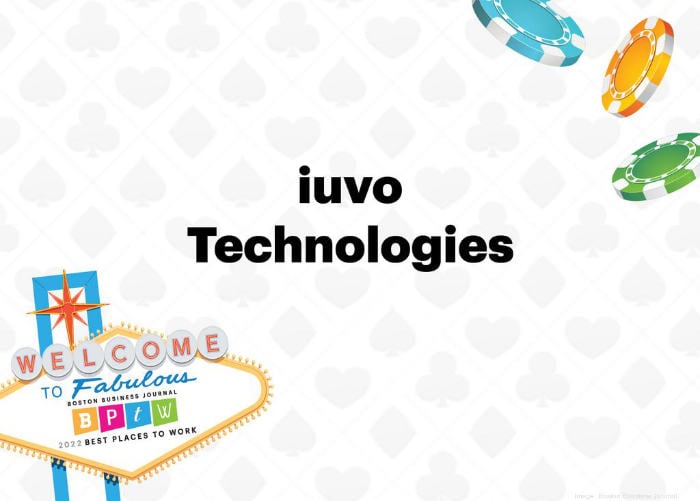 This year marks the 20th annual awards for the Boston Business Journal. It's Boston's first and longest-running awards program recognizing great workplaces. Scores are based on employee attitude surveys that are designed to measure feelings around day-to-day operations and the general workplace environment.
iuvo Technologies is committed to ensuring we are one of the best places to work—with "People first" being a pillar of our core values. We previously won this award in 2019, coming in at number eleven, and are honored to be ranking in the top five this year. Ensuring employees feel supported—in every part of their life—is a key priority for us. We even have a core team dedicated to evaluating and adding benefits that are meaningful to our employees on a quarterly basis.
"When there is uncertainty around you, what you need is someone who has your back and ensures that you can be your best," Bryon Beilman, President & CEO of iuvo Technologies said. "We have been very focused on making sure that iuvo Technologies is a place to work that feels more like a group of best friends that work towards a common goal."
For many companies, COVID-19 and the Great Resignation have created a lot of challenges, but for iuvo Technologies it's been the opposite, Beilman said. "We have benefited. Those who are looking for a positive and empowering environment have found us, and we continue to thrive."
iuvo Technologies grew by 39% in 2021, and is excited to keep that momentum growing throughout 2022 and beyond. Our focus is on developing and expanding our Life Sciences & Biotech, DevOps and Cloud services.
"Winning this award again helps validate that we are on the right track. We are in a competitive market where everyone is trying to be better to retain talent and being recognized above those other great companies is special," Beilman said.
Learn about our amazing team of iuvonauts here, or contact us!