Most businesses today find themselves racing to keep pace with rapid advancements in technology. This challenge represents a greater burden for small and mid-sized businesses without strong technology leadership. Often IT staff members are stretched thin, leaving little time to develop comprehensive strategies for technology improvements and investments or be proactively working to protect data.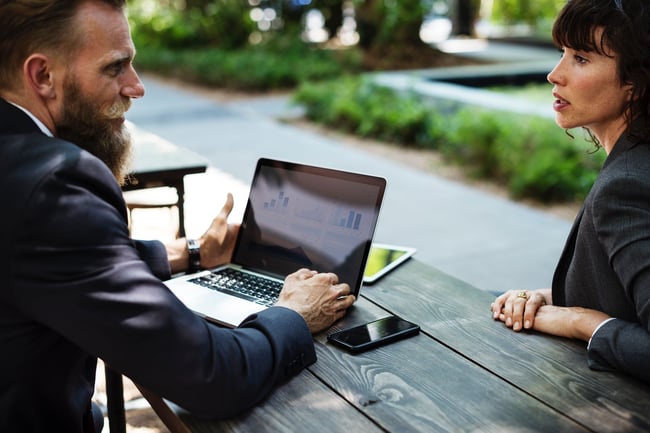 An increasing number of businesses are choosing to manage the many IT issues competing for staff time by contracting with managed service providers. For overall IT guidance, engaging virtual chief information officer (vCIO) services is emerging as an attractive solution.
vCIOs Provide the Same Oversight as In-House CIOs
The vCIO advises and works collaboratively with the client company's IT staff. Duties include monitoring performance metrics, creating IT roadmaps that align with business goals and planning IT budgets. The virtual CIO analyzes business processes and implements improvements. Building on existing infrastructure, the vCIO develops an IT strategy to help the client meet its goals.
vCIO Services Save Money
In small and mid-sized businesses without a chief information officer, IT staff members are often busy keeping day-to-day operations running smoothly. They have limited time to examine the company's overall IT effectiveness. Having a chief information officer on board would fill that gap. Unfortunately, however, hiring a CIO is costly. The position is one of the highest-paid, with a CIO's salary averaging about $187,000 per year.
Businesses often find that partnering with an IT consulting or managed services company to fill the role of a virtual chief information officer saves money on both salary and hiring costs. Instead of paying a salary, along with yearly salary increases and a benefits package, the company pays a monthly fee to a managed services provider for dedicated IT support and consulting.
Businesses that partner with a managed services provider to perform vCIO duties also avoid wasting money on new technologies that aren't well-aligned with business operations and goals and save money by streamlining solutions and proactively selecting and updating solutions based on the ever-changing industry. The other advantage of using a Managed Service Provider that has actual senior staff to provide vCIO services is in their experience. They have seen dozens if not hundreds of businesses and environments at all stages of growth. This becomes an advantage over full time CIOs because they can ensure that their customers avoid common pitfalls and adhere to best practices learned from thousands of collective hours of experience. The reach and depth of a managed service providers' experience in this role cannot be beat.
vCIO Services Add Value
Because virtual CIOs have extensive training on technology best practices, knowledge about current trends and real-world experience from hundreds of companies, they are uniquely qualified to provide overall guidance on strategy, cybersecurity, and productivity.
Strategy
Without the oversight of a chief information officer, IT decisions often are made piecemeal. Through partnering with a a vCIO your company gains the oversight necessary to develop an effective IT strategy. The vCIO optimizes existing technology and augments it to fill gaps, speed up processes, and improve efficiency.
Adopting new technologies, such as migrating to the cloud, requires in-depth knowledge about available options. Not all cloud solutions are the same, and few business teams understand all the differences between private, public, and hybrid clouds. Enlisting the expertise of a vCIO can ensure making the best choice.
Cybersecurity
Contrary to beliefs formed by media coverage, a large proportion of cybersecurity attacks target small and mid-sized businesses because they often don't have adequate protections in place. The average costs from a data hack on a small or mid-sized business can run between $82,000 and $256,000.
The vCIO monitors the client company's overall IT infrastructure to protect it from online threats. Up-to-date technologies, such as firewalls and other security measures, are employed to protect the company from cybercrimes like data breaches and ransomware. The vCIO develops and implements a data back-up system and recovery plan.
Productivity
A well-managed IT infrastructure maximizes employee productivity and prevents downtime arising from technology glitches. Virtual CIOs streamline IT processes and align those processes with the business goals to ensure cohesion among various IT components to improve overall efficiency.
Many small and mid-sized businesses desiring a comprehensive approach to IT are making the decision to engage with vCIO services. Gaining access to the guidance and expertise of a virtual chief information officer while saving money on hiring an in-house CIO yields overall savings and better efficiency and growth.
In this era of fast-paced changes in technology, making the decision to hire a managed services partner for CIO responsibilities can be a game-changer. Virtual CIOs offer businesses a strategic and cost-effective way to stay on the cutting edge.
If you would like to learn more, please contact us.