When it comes down to it, every software and technology business needs IT to run efficiently. You might think that high-tech businesses working in Fintech, Software, Green-tech, Semiconductors, EDA may not have many challenges when it comes to IT infrastructure and strategy due to their tech-savvy workforce, but this is not always the case. Nevertheless, they require out-of-the-ordinary IT support due to the elevated IT demands and technical nature of their products and services.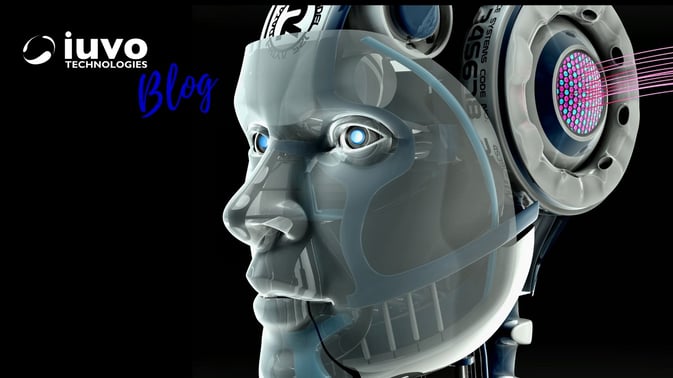 Why Have a Dedicated IT Partner?
As Chris Brierley, Principal and IT Consultant at iuvo Technologies outlines in the "How iuvo Technologies Adds Value to High-Tech & Software Clients" video a lot of times organizations start with a couple of developers who develop software and simultaneously juggle the additional IT-related tasks. But as companies evolve, they have to separate these two functions to allow the developers to focus on what they do – development. This is where additional help from an experienced IT partner is beneficial to bridging the gaps between the developers and operations team. They need an IT services provider whether fully outsourced or hybrid. Teams working in technology are particularly vulnerable to the mistake of repurposing technologists to work on IT tasks. This can lead to workers being overextended, declining productivity, and misalignment of priorities. Working with a professional, dedicated IT partner is the better solution.
Challenges Faced in High-Tech Companies
For many technology leaders, 2021 was a year of focusing on short-term priorities to navigate the impact of Covid 19. But as the economy sees increased growth in 2022 many companies will be negatively affected by the decisions they made in the short term during the pandemic. This may result in rising technical debt and to address that issue you need to optimize your tech stack by working with an experienced IT consulting company that can provide a high operating model between IT and business and provide a road map to get the value of the short-term decision you have made and help you implement future IT strategy that will support your growth. 38% of high-tech executives say their biggest challenge is implementing new support services to help internal staff use cloud base applications and IT capabilities.
Working with reputable IT consultants and managed service providers (MSP) can be an ideal way to make sure you have access to the latest technical knowledge and expertise to support your high-tech business.
Benefits of Partnering with an IT Consulting Company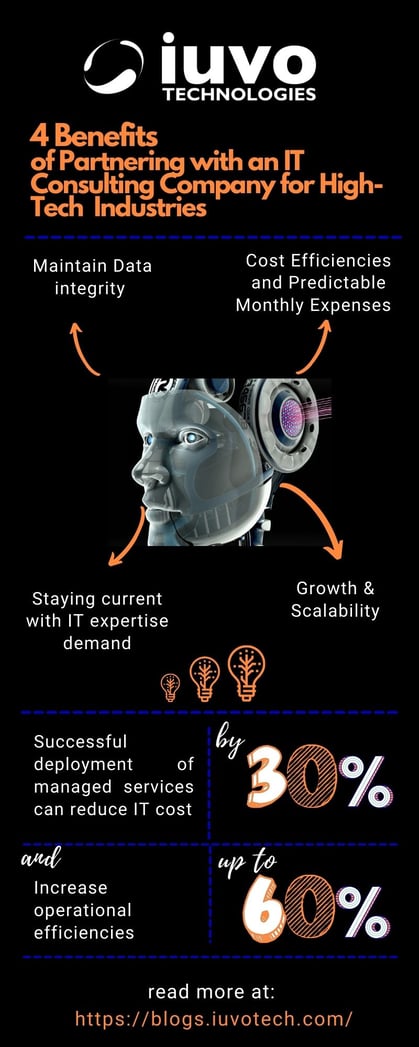 Cost Efficiencies and Predictable Monthly Expenses
Whether your IT service provider operates in conjunction with your in-house IT team or in place of one, you'll always have experts on hand to complete daily tasks, provide proactive maintenance, and reduce downtime. You won't have to put out fires and buy new equipment on an emergency basis. With the right IT service provider, your high-tech business will save money in the long run. Additionally, you can save on salary, benefits, training costs for a full-time IT tech, and unexpected costs that can arise anytime. Based on a Mordor Intelligence Report successful deployment of managed services can reduce IT cost by 25-30% and increase operational efficiencies by 45-60%. By working with a dedicated IT provider, high-tech businesses can break down their costs into fixed monthly payments, as opposed to the large capital expenditures that come with managing systems in-house.
Staying Current with IT Expertise Demand
A white glove IT Providers work with a diverse and broad spectrum of organizations making them familiar with the latest products, tools, compliance issues, and IT strategies. Outsourcing these functions to a partner with technically skilled and specialized engineers in new and emerging technologies alleviates pressures. An important aspect of having an IT partner is having a team of IT consultants who proactively monitor your systems, rather than waiting for issues to appear. Additionally, their expertise is never lost due to employee attrition – with an IT provider knowledge is institutionalized.
Data Integrity
In the modern, ever-evolving business world, companies need to invest in cloud solutions, giving them complete control over their data. With an expert IT consulting team, you can enjoy the benefits of experienced cloud professionals who can operate more efficiently and help your team to be more productive. According to a Harvard Business Review Study, 82% of high-tech companies believe that having a successful cloud computing strategy will become a competitive differentiator in their segment. Outsourced cloud solutions have a reduced risk of interruptions and are often more future-proofed for regulations, financial changes, and more.
Scalability
By partnering with a White-Glove IT services Provider high tech can focus on development and core business functions allowing the business to grow and scale. IT projects can take months, sometimes years to become fully operational but your trusted IT partner can provide a roadmap and fast-track product development.
Bottom line: Most IT departments have limited budgets. By partnering with IT consultants and managed service providers for your back-end functions high-tech companies can dedicate their in-house technology experts to projects that will further their core objectives and promote innovation.
To learn more about how working with an IT service provider can positively impact your high-tech business contact us today!