Why are many SMBs moving to the cloud? It's because in many cases, cloud solutions help small-to-mid size businesses improve efficiency, increase agility, and save money. However, evaluating the true cost of migrating to the cloud is crucial to understanding the actual benefits. To know if cloud solutions are right for your business, you must not only understand the technical and security considerations, but also be able to evaluate the cost of the migration itself. With this in mind, iuvo Technologies recommends a Total Cost of Ownership (TCO) analysis. A comprehensive TCO analysis includes three major types of costs:
Capital expenses: On-premises hardware & software
Operational expenses: Services, support & maintenance fees to keep the equipment running
Indirect costs: Potential downtime and time-to-market delays.
We recently conducted a TCO analysis for a client considering moving from a hosted solution to a cloud solution. In this example, we were able to provide a 37% savings over a 3-year period for our client when moving from a hosted to a cloud solution (in this case, Amazon Web Services). We considered a number of tradeoffs when comparing the two solutions in terms of investment in time and labor versus savings.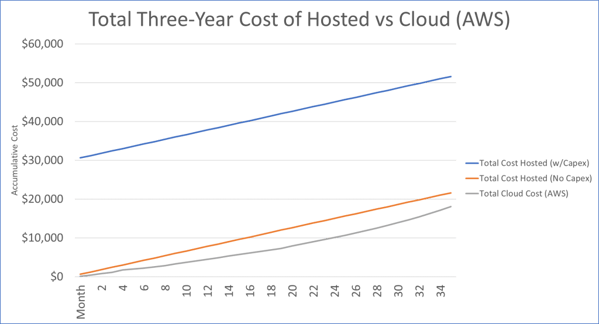 Here are some things we recommend considering when evaluating solutions:
On-premise solutions: For an on-premise solution, capital expenses include the hardware equipment and initial software purchases required to support the project or application. Additionally, if a new datacenter is being used, a portion of the datacenter build-out is allocated to the overall cost of the project.
Public cloud and hosted solutions: Public cloud and hosted solutions require no capital expenditures, therefore minimizing the long-term investment for a new project and upfront capital outlay required to implement the new infrastructure. Cloud services and hosting providers that provide managed services can allow IT organizations to free up their staff to work on more strategic, revenue-generating projects instead of focusing on operating infrastructure. Additionally, cloud solutions, provide guaranteed uptime SLAs. Unplanned downtime has the potential to impact a number of areas, including labor productivity, revenue, reputation and customer loyalty.
| | | | |
| --- | --- | --- | --- |
| | Cloud | Hosted | On-Premise |
| CapEx | None | Software, license purchases | Hardware equipment, initial software and license purchases, and datacenter build-out |
| OpEx | Managed cloud services allows staff to work on strategic projects instead of operating infrastructure. | Activities and expenses required to install, setup and keep the app running | Activities and expenses required to install, setup and keep the app running. Updates require heavy involvement. |
| Indirect Costs | Guaranteed uptime in SLAs higher than On-Premise | | Downtime and time-to-market |
By using the total cost of ownership approach, we were able to provide full visibility into all costs, so our client could make an educated decision to move to the cloud, but the benefits of the cloud depend on many factors, and will vary for each organization. There are many hidden costs when migrating solutions; cloud solutions may not always be a good fit for every aspect of every business, and collecting the information you need to make the case for- or against- cloud solutions can be a daunting task.
Interested in analyzing the benefits of cloud for your organization? Contact us today.