Are you struggling to choose between Google Workspace and Microsoft 365? At the core, both are collaboration tools that have Communications, Data sharing, Word Processing, Spreadsheets, and Presentation tools. Google leverages their strength in robust, and high-capacity Internet based infrastructure to deliver an environment that requires nothing more than a web browser for the end user. Microsoft comes from a rich history of popular desktop-based software to deliver a very similar service.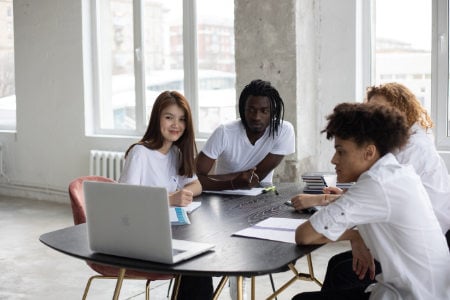 The services outlined above function very similarly and can be quickly provisioned for end users. The human experience of using a web browser to work with Microsoft Word, or Google Docs has very little difference, and this is the case with most of the collaboration tools. As noted above, both vendors are coming to similar products from different directions, and as the one gets into more of the details these differences become more apparent. Take a look at their feature breakdown, as well as a comparison of cloud integration, end user integration, cost, and security elements to determine which platform is best for you.
Feature Comparison
| | | |
| --- | --- | --- |
| Feature | Microsoft 365 | Google Workspace |
| Electronic Mail | Outlook | Gmail |
| Word Processing | Word | Docs |
| Spreadsheet | Excel | Sheets |
| Presentation software | PowerPoint | Slides |
| Online Meetings | Teams | Meet |
| Text Messaging | Teams | Chat |
| Scheduling | Outlook | Calendar |
| File Storage | OneDrive / Sharepoint | Drive |
| Surveys and Questionnaires | Forms | Forms |
| Code Free Internal Websites | SharePoint | Sites |
| Ad Hoc Notetaking | OneNote | Keep |
| Search organizational content | SharePoint | Cloud Search |
| Low code online automation | Power Automate | Apps Script |
| Collaborative Storytelling | Sway | Jamboard |
| Device Management Security | Endpoint Manager | Endpoint |
| Electronic Discovery | Compliance | Vault |
| Collaboration overview | Delve | Work Insights |
Microsoft 365 has several additional tools that don't have direct replacements within Google Workspace. A summary is below, but the list isn't comprehensive.
Access – Local file database
Bookings – Tool for scheduling meetings
Customer Voice – Capture feedback
Project / Planner – Project planning software
Power Apps – Mobile and Web application builder
Power BI – Ad hoc and dynamic data dashboards
Visio – Diagramming Software
Cloud Integration
This comparison is of Microsoft 365 vs Google Workspace however, a brief mention of cloud integration must be included. Both Microsoft and Google have robust generalized cloud-based services, Microsoft Azure and Google Cloud Platform. Microsoft is increasingly making Azure and 365 ever more tightly integrated. The Microsoft 365 user list is in Azure AD, and often management of the service requires moving between the two environments frequently. Google has kept the offerings less tightly integrated. Both approaches have benefits and drawbacks.
End User Integration
For more established organizations that may have an on-premises Microsoft Active Directory, Microsoft Exchange, and Windows PCs, Microsoft 365 will provide end users with a much more familiar work environment than Google Workspace. Migration of existing data into Microsoft 365 will be much easier, and end user workflow can stay very similar (with some amazing improvements). Additionally, the traditional locally installed Microsoft Office 365 does not have a Google equivalent.
For organizations that may not have the legacy investment in Microsoft today, either solution can work. Microsoft's offerings are both broader and deeper, and are more tightly integrated into Windows based computers, while still working with Apple Macs. Google Workspace is designed around a web browser, and computing platform that supports an Internet connection and a browser is fully supported.
Cost
As these two services directly compete the monthly cost for a similar service is also very similar. One can be slightly more expensive in certain cases, but the monthly cost is close enough that it should be a deciding factor in any decisions.
Ongoing support costs can differ substantially. In our experience we have found that with an initial implementation, with limited scope, the management costs are also very close. As the scope increases, i.e., more services are used, and the services are used to greater capacity, Microsoft 365 becomes less expensive to manage.
Security
Neither Microsoft nor Google have spotless security records. Neither service allows outside security audits either. Both services will provide a long list of compliance standards they say they meet.
Both services include security tools and services that are also very comprehensive, and feature rich that trying to implement them "on your own" would be very expensive, time consuming, and difficult. While we can't investigate the service, it is likely the security of both is greater than other alternatives today.
What should you choose?
In an existing Microsoft environment, Microsoft 365 is the easy choice. Users will be comfortable, administrators will be comfortable, and the tight platform integration is excellent.
A new environment can be a more difficult choice. If most of the users are on Windows PCs and comfortable with that, or they just want the Microsoft Office desktop office suite even in a predominately Apple Mac environment, Microsoft 365 is the best choice. If there is an institutional bias against Microsoft, Google Workspace is an excellent alternative, and the staff will be very productive.
Whether you've made your final decision or are still struggling with which platform to choose, we're here to help. Contact us today to get started.