Regardless of where you are in the world, businesses have experienced a major shift during the past few months. When the pandemic first began the main goal was to figure out how to work remotely. Now that many people have comfortably adjusted, the focus has become different. The phrase 'work from anywhere' is actively replacing 'work from home'.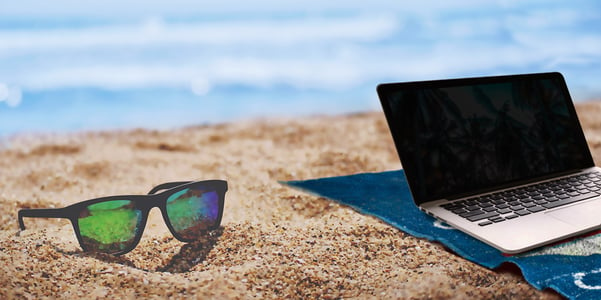 Why Work from Anywhere?
Major companies are still learning how and where their employees work best. By changing the model from working from home to working from anywhere, people are enabled to get their work done wherever they are most productive. This change especially gives employees the liberty of doing what's best for them without a strict environment. One thing must remain the same- the outcome and high quality of work.
Today, more than half of the world's population is working remotely. What does this mean for employees? Saving money by traveling less, not eating out as often, and not needing to spend as much on gas. In fact, working from anywhere is the best of both worlds- 77% of all workers say that they are more productive while working remotely. In addition, with the increase of flexibility, remote workers are said to work 6-7 more hours per week than their office-based counterparts. The bottom line is that many people are willing to work hard for the opportunity to work from anywhere.
WFA is more practical than WFH. Why? Because the liberty that comes with working from home can sometimes not be ideal. Many people have children, pets, roommates, significant others or other distractions hindering their work from home ability. Work from anywhere is centered around making your schedule work for you, wherever you are. Some days when you have many meetings or important calls getting away from these distractions, at an outdoor café or a park, is a better solution. The work environment is flexible and always changing, and that's okay when it comes to WFA.
Who's Doing This?
Work from anywhere has been extremely rewarding for many businesses. So successful, in fact, that companies are getting rid of their offices because they no longer have a need for physical space. So, who's taking part in this?
Germany-based Siemens, an industrial manufacturing company, is one of the first to make the permanent change. With over 140,000 employees worldwide, Siemens is embracing work from anywhere approach to reduce costs and increase convenience. Disability insurance company Unum, located in Worcester MA, is also embracing the shift. It recently announced it will be sending its 400 employees home from the office.
Many companies are also adding more remote and work from anywhere positions:
Amazon

. As one of the largest

multinational

tech compan

ies, Amazon

offers a variety of positions in different industries that allow for working remotely or in different

countr

ies

.

American Express.

Dedicated to employee success, AMEX has requirements for th

e

environments its employees

work in. A quiet

space with safe network connection

s

are included in ensuring

employee productivity.

Apple

.

From marketing to sales and retail,

employees from any location

are strong resources for personal connection

to consumers.

At any moment, employees are ready to answer any and all questions about Apple.

Dell.

Employees from all levels of experience are able to work from anywhere with Dell.

Many positions vary in industry and

skill level

. In fact, WFA with Dell comes with employee benefits.
Things To Be Mindful Of
In a work from anywhere approach, we must be mindful that the way devices and company data are secured should be different from how traditional in-office models secure devices and data. Because you cannot rely on a single company firewall or connection point, the security must be done on the devices directly. The technology to allow this to happen is pervasive and a good MSP can guide you to take advantage of this.
Potential Negatives
With any change comes potential negatives. For business owners, there can be some consequences with WFA employees. For one, there can be far less collaboration and relationships built amongst co-workers if a unified communications approach is not properly implemented. Although Microsoft Teams and other collaboration tools allow for virtual communication, in-person group work can sometimes be more productive and genuine.
As an employer you must have trust in your employees. Trust is essential in developing a level of comfort that would ward off potential micromanaging. If you trust that your employees are completing their work, aware of their surroundings to prevent security threats and maintaining company core values, a work from anywhere approach will go much smoother. Historically many corporate cultures have been set up as environments that do not show employees a lot of trust. This is a barrier that hopefully companies are realizing they can relax given data points from the last several months.
The Positives and

Why This Works
Employees are excited about WFA because they are no longer limited by geographic locations or time zones. With this kind of flexibility, working the typical 9-to-5 is no longer a strict policy. As long as the work is complete and efficient, the clock is not a restriction.
Office space is very expensive. According to recent analytics, "a typical employer can save about $11,000/year for every person who works remotely half the time". In the US, over 40% of bank executives said that they plan to reduce their real estate. This could mean that the overall real estate market drops significantly and becomes more affordable. In addition, this shift also allows people to sprawl out into the suburbs. Before, areas with a lot of job activity were incredibly densely populated. Now that people will not be fighting commutes to go to work, the opportunity to buy in less expensive and less populated areas is becoming incredibly attractive.
As employers have the chance to reduce costs, telecommuters become more comfortable, focused and productive in their own space. With the right knowledge about IT and how it elevates your business, you could be the perfect candidate for a work from anywhere environment. Contacts us today and iuvo Technologies will help you figure out what the right approach is for your business.