All startups, biotech or otherwise, need IT. Email, file storage, means to collaborate (chat, phones, meetings), laptops, networking etc. all have to be working before day one. That is, this all has to be working before one can even think about integrating sequencers and build data pipelines. iuvo Technologies' goal for any business, but particularly those that are just getting off the ground, is to get the technology out of the way so you can create your business. IT exists to enable a business, not be a burden.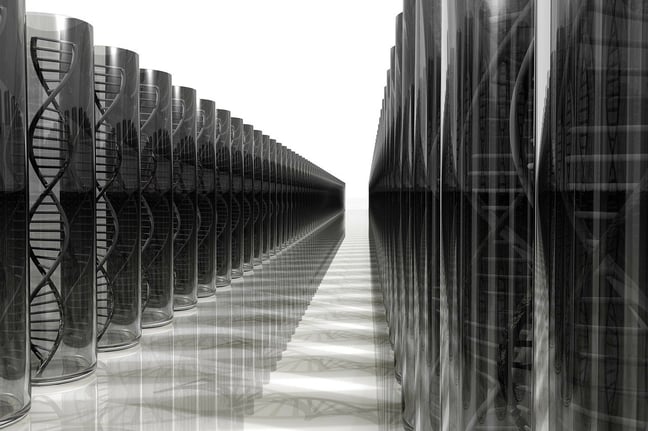 In this blog I will be referring to a case study of a fictional biotech startup named Pinnacle Sciences. Pinnacle's founders, Emma and John, have just received their seed funding and now need to go forth and build their business! Earlier in the year they registered pinnaclescience.net and setup Google G Suite for email because it was quick and easy to do so. Over the next few months Pinnacle must hire several employees, find a new office, lab space and provide the technical means for their company to scale up.
Science First
Without a Managed Service Provider (MSP) like iuvo Technologies to handle the necessities of business technology, startups often rely on a scientist and/or founder to do these things on the side. This distraction from the science and details of getting a business off the ground is unnecessary at best. Unfortunately, we almost universally find early, inexpert technology decisions become serious blockers to growth and success down the road.
Emma and John are at a critical juncture that many nascent companies don't even realize as such. There are many technology decisions that need to be made now that affect how easily their business scales. There are questions that must be answered such as:
If you currently have cloud services (like G Suite), will they provide the security, flexibility and capabilities you need when you're 10, 50, and 100 employees?
How will your team meet, share files and collaborate?
What will you put in the cloud?
How will you power, cool and protect the things that aren't in the cloud?
How will you ensure your company (and your $100 million idea) stays safe and secure?
What happens if there is an issue with non-cloud systems? How quickly do you need to access your data, or how long can you be without it?
Case Study – Building IT From the Ground Up, No MSP Relationship
Fast forward 8 months. Pinnacle Sciences now employs 20 people and things are starting to fire on all cylinders, the sequencers are on their way and the labs are filling up with equipment. To fill the functionality gaps in Google's G Suite, Emma (who has begrudgingly become the defacto IT decision maker) has added additional tools like Zoom, RingCentral, Slack, and Ignite. Everyone at Pinnacle is using a laptop they purchased and setup themselves, and most employees have their email and files on their mobile phones. Emma is now spending several hours per week creating new accounts, helping new hires get everything configured on their computer, rebooting the router when the WiFi stops working etc. and she's tired of it. On top of this, her bioinformatics lead has been hounding her to help him purchase a storage device so they can put the sequencers to use when they arrive.


Seasoned Experts Can Help
iuvo Technologies has found that when we can be involved in the nascent stages of a new business, costly mistakes can be avoided by following best practices right away, choosing technologies strategically and spending the time to integrate them right out of the gate. To quote a commercial from Farmer's Insurance company, "we know a thing or two because we've seen a thing or two." Creating IT infrastructure from nothing is our specialty. We are constantly building cloud services, servers, storage arrays and more. Not only does this fast track your business from idea to reality, we can do it with the latest industry trends and technologies.
Working across your industry as well as other verticals makes MSPs uniquely suited to spot trends and gives them a leg up when it comes to integrating commonly used software and hardware. Ensuring there is enough reliable bandwidth to get sequencer data into Amazon and networking subzero freezers securely are things we do.
When you hire an MSP, you don't hire an individual person but a team of people. This means not only are your networks and cloud services redundant, so is your team responsible for it. You have access to the sum total of your MSP's expertise and you have access to all of our subject matter experts in cloud, storage, networking, security and more. It is impossible to get this breadth of IT experience in a small business. Additionally, you do not need to think about hiring an IT position yourself. Screening, hiring, managing and growing IT professionals is not the core competency for a biotech company.
Case Study – Building IT From the Ground Up, MSP Enabled
Emma and John realized that while they can solve nearly any problem, they've never done IT before and don't know what they don't know. They decide to hire iuvo Technologies as a trusted advisor to help them make informed decisions and to implement IT strategy for Pinnacle. After speaking with iuvo Technologies, John and Emma agree that choosing an "infrastructure as a service," cloud-first approach is best. This offers Pinnacle predictable, per-employee IT costs, all the communication and collaboration tools they need as well as enterprise grade security they've relied on at former companies.
Fast forward 8 months. Emma has become the person who maintains a relationship with iuvo Technologies. When they bring on a new employee, she asks them to create the account and procure a laptop. When the employee starts, they sign into their laptop and all the tools they need to collaborate with their team are installed automatically. Their systems are always up to date, secure and centrally managed, enabling them to be efficient and productive on day one.
Security of Information
It is said that information is the new oil. A biotech's most valuable asset is the knowledge its people possess and the discoveries it makes. An experienced MSP will ensure your data is safe, avoiding the pitfalls of early "IT on the side" decision making. Investing in an MSP's experience will pay dividends when it comes to setting up the proper policies and get systems centrally managed ahead of time, mitigating the exfiltration of data before it happens. Security measures like AI driven threat detection, cloud-controlled document encryption, multi-factor authentication and single sign-on are necessary in today's information security landscape but rarely considered until it's too late.
Case Study – Intellectual Property, No MSP Relationship
Emma and John just had to part ways with one of their earliest hires, Nicole. Nicole was one of their lead scientists and had a passion for Pinnacle's science but wasn't happy with the direction Emma and John were taking the business. Nicole decided to not only leave but to continue the research she was doing on her own. Emma is now scrambling to turn off all of Nicole's accounts but realizes that Nicole had copies of all their scientific data, email correspondence with peers in the field and all of Pinnacle's clinical trial information stored on her computer. While Emma was figuring out how to best turn off Nicole's access, she found a rule Nicole made, which forwards all of Nicole's mail to her personal Gmail account. There's no way for Emma to estimate how much data and to what extent Nicole was able to leave with but at the end of the day there's nothing she can do about it.
Case Study – Intellectual Property, MSP Enabled
When Pinnacle decides to part ways with Nicole, Emma asks iuvo Technologies to disable her account and retire her Pinnacle managed system. A few moments later, Pinnacle's documents, email, chats etc. are removed from her mobile devices and her computer is wiped, ready to be returned. Access to sensitive Pinnacle documents is revoked and any copies Nicole may have stored elsewhere are rendered inert. There is nothing Emma can do about the knowledge Nicole has left with but fortunately, this Emma never knew the panic and fear her alternate universe counterpart experienced from the previous case study.
---
Pinnacle Sciences may be a fictional company but the technology challenges they face are very real examples we have seen. We meet the Emmas and Johns of the world repeatedly, at various stages of startup growth. The common theme among all of them is that the burden of IT has reached the point where they need help. We hope we can get in early and work with founders and stakeholders to build solutions that fit their business like a glove. Unfortunately, we often find ourselves entering after a significant technology setback for the business, where it becomes costly to mitigate and then migrate to more mature solutions. The reason it is difficult for businesses to understand when it makes sense to engage with an MSP prior to these setbacks is because it's something that should be done at the beginning, at the same time lease paperwork is being signed. IT enables the business when it is transparent and proactive. Finding a trusted technology advisor is critical for any business.
For more information about how iuvo Technologies can help you launch your business, please contact us.