Intune Company Portal is a Microsoft application that your company configures in their backend systems that allows you to securely access company email, data, and applications from your mobile phone, laptop, or tablet. Your company sets certain parameters/policies that they deem necessary to keep data safe while being accessed from your device. An example of this is requiring your device to have a password and encryption of the hard drive.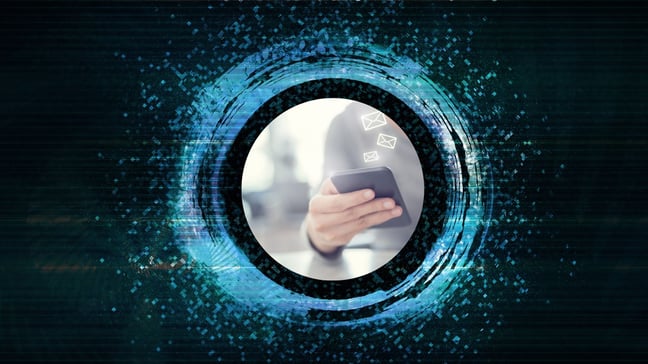 The Need for Intune Company Portal
The first thing most people want on their phones from their workplace is email. If your organization is high security driven, you will most likely find that you can't just add an email account to your phone. You first need to install Intune Company Portal. While there is technical documentation on how to set up your phone to access your company email and Teams (as well as other o365 applications), it is often more complicated than it seems to be at first glance.
Here I will outline a simple process for you to understand and go through on your own without technical support. (But just in case: If you run into issues your IT Support can readily understand and help you resolve issues that may arise)
How to Add it to Your Device
If you are on an iPhone or an Android, you can go to the respective store on your phone and just search for "Intune Company Portal" then click Install.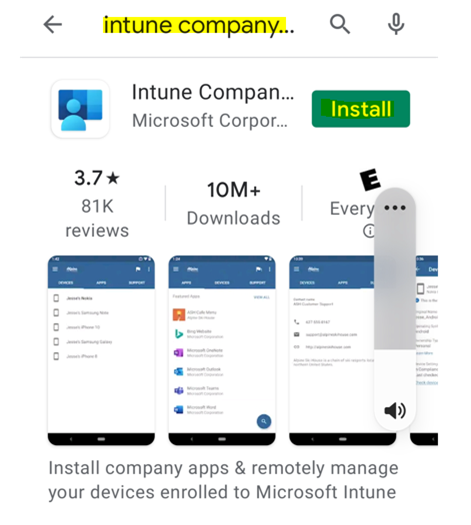 Once downloaded you will then click Open: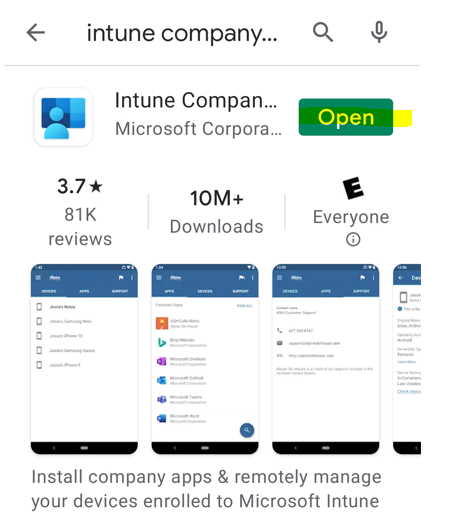 Then click Sign in: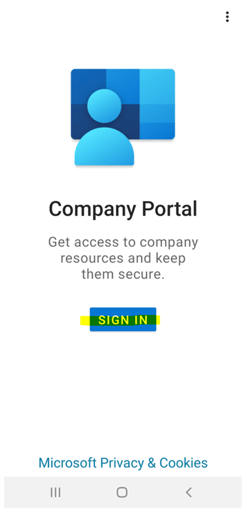 Sign in with your company credentials: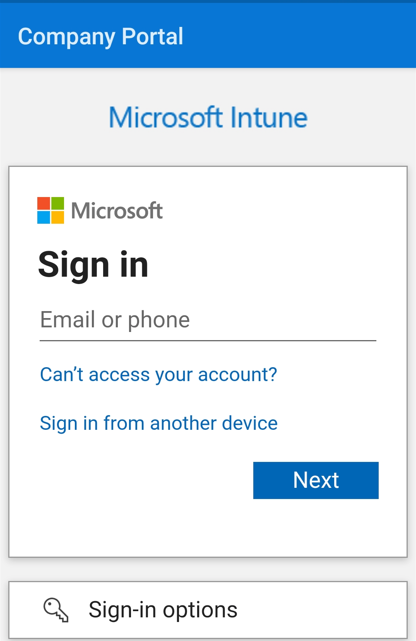 Once signed in you will be asked to "Accept" your organization's terms and conditions. These are normally standard and your organization can't see or access personal items on your phone. They are simply trying to make sure your phone meets requirements that will keep company data safe and secure while you are accessing it from a mobile device. Some items may require you to use a passcode on your phone (most people probably already do, and if you don't, I would suggest you turn this feature on), they may require your phone to lock after not being used for say 5 mins, 3 mins… They can require that your device be encrypted for more data protection. You have to accept the conditions to use your device to access company data, so once you accept you are on your way to gaining access to necessary data/applications.
Your device will now be enrolled in the company portal. Slight differences may give you different prompts depending on your device's software version but the basic idea is to find the Intune Company Portal application, download, install it, sign in, and allow it to configure your device.
Once this is done you can now go back to the respective store for your device and search for Microsoft Outlook, download, install, and log in with your company credentials and access your email. You can do the same for Microsoft Teams or any other o365 application you desire to use from your phone.
If you run into any issues following the process outlined here or want to discuss the subject further do not hesitate to contact your iuvo Technologies' IT Consultant today!