In the past year and a half, the shift from the office to work from home has significantly increased the need and usage of conference calls and online presentations and because of that, the calendar has become a critical part of all business professionals' day to day workflow management. With all those calls in mind, we decided to provide a few pointers to help you optimize your calendar and start scheduling like a pro.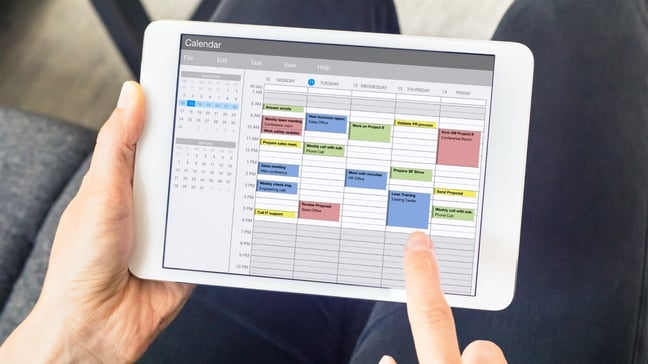 1. The Go To Date Keyboard Shortcut

Ctrl + G will populate the Go To Date window. The tip here is that you do not need to use the same date format (such as 12/25/2021) you can easily write "Dec 25, 2021" or even "Christmas". You don't even need to put the date in a specific order – simply write "Saturday" and it will send you to the next upcoming Saturday or write "Today" to bring you back to…well…you get the picture!

2. View Outlook Calendar from Email Inbox
It can be time-consuming switching back and forth from the calendar to email. Microsoft makes it simple: you can view a mini version of your calendar and schedule an agenda in the email portion of your Outlook. To do this, right-click on Calendar on the Navigation Bar, and check click Dock the peek. Now a miniature version of your calendar and agenda will appear on the right side. You can click on the agenda details, and it will automatically open a new window (without switching to the calendar) so you can quickly update or see details of your meeting.
3. Share Your Outlook Calendar via Email
To share your calendar with anyone you wish and include a miniature calendar for the person you want to send it to just follow these simple steps from your outlook client: click on Insert, under Include click on Calendar, you can select the Calendar, Data Range, Details as well as a few additional options. Ready to send!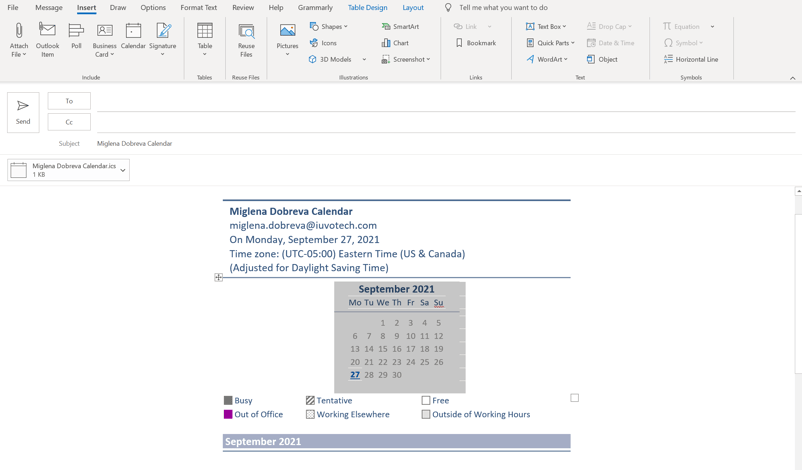 4. Automatically Apply Colors to Outlook Events
This can change the way your events look and help save some time on manually changing the colors of meetings. Go to your Calendar and select View, then View Settings. From the pop-up, select Conditional Formatting. Here you can add a condition, and give it a name to select the color. Click on the Condition button on the bottom and fill out the search words that you want to search for. You can select in: Options as well. Click Ok and test it out by creating a new meeting!
5. Convert Any Email to an Outlook Calendar Event
To convert an email to an appointment, all you must do is drag the email to the Calendar icon. Everything in the email will be listed in the email below. You can click and drag any email, hover it to the calendar icon.
6. Change Timescale
This function is used if you want to change the timescale on your Outlook Calendar. By default, the granularity on the calendar shows 30 minutes increments. If you want granularity, you can change that by going to the left side of your calendar and right-clicking on the scale. This is helpful for example when you want to schedule 45 meetings you can switch to 15 minutes increments.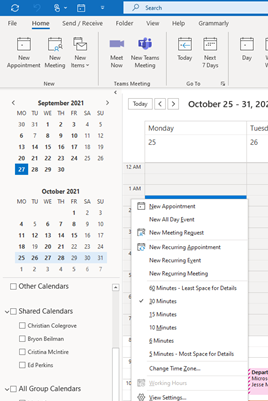 7. Dark Mode

Nowadays the dark mode is trending and a lot of applications including Outlook Calendar are offering this functionality. To use the dark mode right-click on any entry in the calendar and click on "Calendar Options". Go to the "General tab and Personalize your copy of Microsoft Office. From the drop-down menu of Office Theme, select "Black" and click OK.
Outlook Calendar is one of the most robust email clients ever created. We hope that by using these tips, you master the tools of the hyper-productive! For more information and tips in the future, subscribe to our weekly blogs where we provide some of the latest news, instructional material, and announcements from our team members.
If you have any other questions related to Outlook, don't hesitate to Contact Us
Related Posts